Christian (noun)
1. a person who believes in Jesus Christ; adherent of Christianity
2. a person who exemplifies in his or her life the teachings of Christ (from Dictionary.com)
In today's Gospel, the Pharisees are once again asking Jesus for proof of who he is. The problem is, that if you have to ask for proof, you are most likely already missing the point. Faith is a theological virtue, meaning that it is infused in us by the grace of God. "Faith is the theological virtue by which we believe in God and all that he has said and revealed to us…" (CCC 1814) We cannot make it happen on its own. To have faith is to be open to the gift of grace. While we can cultivate openness, we can't acquire grace on our own. Grace is a free gift from God.
We see an example of this grace in action, when Jesus asks the disciples who people say he is, "When Jesus went into the region of Caesarea Philippi* he asked his disciples, "Who do people say that the Son of Man is?" They replied, "Some say John the Baptist,* others, Elijah, still others Jeremiah or one of the prophets." He said to them, "But who do you say that I am?" Simon Peter said in reply, "You are the Messiah, the Son of the living God." Jesus said to him in reply, "Blessed are you, Simon son of Jonah. For flesh and blood* has not revealed this to you, but my heavenly Father." (Matthew 16:13-17)
We hear our time in history described as "post-Christian" meaning that Christianity is declining as a majority religion. It isn't that people don't believe in Jesus, rather they have lost the awareness of their need for faith in daily life. There is a "been there-done that" attitude towards Christianity. "I tried _________, but it isn't for me." (You can fill in the blank with whichever noun you choose; God, the Church, faith, religion. There are a host of options tossed about.) Our culture is pretty D-I-Y; if we can't pull ourselves up by our bootstraps and make something happen by the force of our own will, then we simply aren't interested.
Jesus speaks directly to this so-called modern attitude, "The works I do in my Father's name testify to me." Listen to that again, "the works I do in my Father's name testify to me." It isn't about claiming to be a Christian as a title, it is about letting the gift of faith seep down to our very toes and change who we are so that our very works, each of our smallest of actions testify to who God is and who we are in Him.
"The disciple of Christ must not only keep the faith and live on it, but also profess it, confidently bear witness to it, and spread it…service and witness to the faith are necessary for salvation." (CCC1816)
But to do that, the very first step is opening up our hearts and minds. It is letting go of our egos and pride and thinking we have all the answers and giving God space to fill us with faith. St. Mother Teresa of Calcutta said, "If you are discouraged it is a sign of pride because it shows you trust in your own power. Your self-sufficiency, your selfishness, and your intellectual pride will inhibit His coming to live in your heart because God cannot fill what is already full. It is as simple as that."
My prayer for us in this month of Mary is that we mimic Mary's yes and open ourselves up to the faith God wants to instill in us. He is that ever-patient and tender lover waiting for us to make space for Him. Just like the farmers preparing the ground for spring crops, we can prepare the soil of our souls to be open and ready for God's planting of the grace of faith. Then we can tend that garden and live into the fruits of what it means to be a disciple of Christ, and like those early believers in Antioch, truly be called a Christian.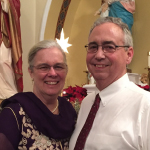 Sheryl delights in being the number 1 cheerleader and supporter for her husband, Tom who is a candidate for the Permanent Diaconate in the Diocese of Kalamazoo. They are so grateful for the opportunity to grow together in this process whether it is studying for classes, deepening their prayer life or discovering new ways to serve together. Sheryl's day job is serving her community as the principal for St. Therese Catholic School in Wayland, Michigan. Since every time she thinks she gets life all figured out, she realizes just how far she has to go, St. Rita of Cascia is her go-to Saint for intercession and help. Home includes Brea, a Bernese Mountain dog and Carlyn, a very, very goofy Golden Retriever.