In today's Gospel, Jesus asks His disciples, "Do you not yet understand or comprehend? Are your hearts hardened? Do you have eyes and not see, ears and not hear?" Christ is pointing out the blindness of His own disciples and, in turn, when we hear this Gospel, we hear of our own blindness. The disciples take Christ's word literally and fear that He is upset with them for not bringing enough food for the journey. This reaction in and of itself is proof of their blindness. Jesus has to remind them of the times in which He fed the multitudes with little food, yet food remained left over. Despite being witness to these miracles, the disciples are still unable to recognize who Jesus is and what He is doing in their lives. Ultimately, it is an obstacle right in front of their faces that blinds the disciples. They forgot the food. That obstacle prevented them from being fully present with Christ, thereby preventing them from recognizing who He is.
How many times do we allow ourselves to become blinded by the obstacles before us?
Personally, I had a rough week. Nothing seemed to go right; plans were canceled, we had car troubles, there were snow days that messed up schedules, and it was just messy in general. It was really easy for me to get caught up in that "where's-the-good-in-the-world" attitude. I couldn't recognize Jesus working intimately in my life. The plans that were canceled allowed my husband and me to have two lovely three-day-weekends in a row together; despite car troubles and snow, I got to work all week safely; my students were joyful.
What is it that hardens our hearts?
In the first reading, we hear, "Do not be deceived, my beloved brothers and sisters: all good giving and every perfect gift is from above…" God gives us so many wonderful gifts every single day. The gift of life, of friendship, of warmth, of intellect, of faith, of humor, of joy, of strength. It is so easy to overlook those gifts and focus on the negative, on the difficulties. But it is in focusing on those negativities that we are prevented from understanding the Good News of Christ. That Good News is that He loves us and that He will care for us if we only put our trust in Him.
"The most beautiful act of faith is the one made in darkness, in sacrifice, and with extreme effort."
St. Pio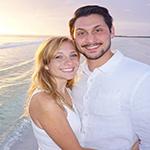 Dakota currently lives in Denver, CO and teaches English Language Development and Spanish to high schoolers. She is married to the love of her life, Ralph. In her spare time, she reads, goes to breweries, and watches baseball. Dakota's favorite saints are St. John Paul II (how could it not be?) and St. José Luis Sánchez del Río. She is passionate about her faith and considers herself blessed at any opportunity to share that faith with others. Check out more of her writing at https://dakotaleonard16.blogspot.com.