How much time do you have?
How much money do you have?
How much patience do you have?
How many talents do you have?
How much energy do you have?
How much prayer time do you have?
How many gifts do you have?
You're probably thinking: not much, not many.
"How many loaves do you have?" Jesus asked his disciples as he looked on the thousands of people who were hungry because they had been following him for days.
The disciples were probably thinking: not much, not many.
Notice that Jesus did not ask them how much EXTRA food they had. They were hungry, too, of course. Jesus did not ask them if they had a surplus to help feed others. He asked them how much they had, and they gave it all to him.
Then he gave thanks, broke the bread, and gave it to his disciples to distribute to the crowd. It would have been unbelievable if everyone had gotten a bite. It would have been incredible if everyone ate enough to be satisfied. But it is amazing that everyone ate and was satisfied, and there were still seven baskets of fragments leftover.
Jesus is not just doing this to amaze, of course. Jesus is acting out of compassion and addressing a real need of the people who were following him to hear about the Kingdom, who would not have had enough strength to get back to their homes.
Jesus, as always, is also teaching a lesson: he wants us to participate in his saving mission by putting what we have at his disposal. Jesus did not make bread out of thin air (which he could have), nor did he distribute the bread himself. He asked his disciples to give what they had and asked them to hand out the gift. They entrusted their meager resources to the Master, and they must have been in consternation as they continued to hand it out to the people without running out!
What would have happened if the disciples had decided that they had no surplus, and kept those loaves for themselves? This would not have been unreasonable. But God calls us to act beyond reason, to act in faith.
Jesus asks each one of us to entrust our meager resources to him, knowing that God's work is done beyond our small human abilities, reason, and calculations. We may think we do not have much to give, but when we give generously, he is able to give more generously. In fact, God does his best work when we are at the end of our capabilities and lean into him for results. And God's results far surpass the sum total of what we give.
Let's confidently hand him all we have – our meager loaves and little fish – and then watch what he can do.
And the circus won't be coming to town.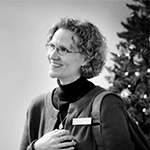 Kathryn Mulderink, MA, is married to Robert, Station Manager for Holy Family Radio. Together they have seven children (including newly ordained Father Rob and seminarian Luke ;-), and two grandchildren. She is a Secular Discalced Carmelite and has published five books and many articles. Over the last 25 years, she has worked as a teacher, headmistress, catechist, Pastoral Associate, and DRE. Currently, she serves the Church as a writer and voice talent for Catholic Radio, by publishing and speaking, and by collaborating with the diocesan Office of Catechesis, various parishes, and other ministries to lead others to encounter Christ and engage their faith. Her website is https://www.kathryntherese.com/.