How often do we forget our call, our vocation, as Catholic Christians? We might get hung up on the word "vocation," thinking that, "I'm living out my marriage/priesthood/religious life/single life, isn't that enough?" No, it's not enough. In fact, there's so much more.
We all share a singular, universal mission: to go and make disciples of all nations. Today, on the Memorial of St. Paul Miki and his companions, we receive the very-needed reminder of our shared Baptismal call as we celebrate and honor one of the saints that best embraced this mission.
St. Paul Miki lived during a time of Christian persecution in Japan. A Jesuit known for his style of preaching, he was able to convert a great number of hearts to Catholicism. Meanwhile, the Japanese rulers became fearful of the growing influence of Catholicism and questioned their intentions, so beginning the widespread persecution. Paul Miki was eventually arrested, imprisoned, and sentenced to death for his "crimes." Even hanging on a cross, he spent his final minutes preaching to those present for his execution. Once the time of persecution was over, missionaries arrived back in Japan during the late 1800s to find that Christians had hidden and preserved their faith. At the price of his life and knowing exactly his fate, St. Paul Miki truly embraced his Baptismal call as he made disciples all across Japan.
Thankfully, we here in the United States aren't experiencing persecution like that seen in Japan during St. Paul Miki's time, but that doesn't mean our task of making disciples is any less difficult. We face different challenges, like those wanting and willing to discredit the Church for the sex abuse crisis, like the culture of death evident in abortion and like the suppression of all that is good and true in the media, especially when it comes to Christian values. I argue that this is when we need to be making disciples the most. And we may not be risking our lives but rather our reputation and wellbeing. How far are you willing to go to embrace the call to "go and make disciples of all nations, baptizing them in the name of the Father, and of the Son and of the Holy Spirit, teaching them to observe all that I have commanded you"?
May we look to St. Paul Miki and his courage as we strive to live out our Baptismal call.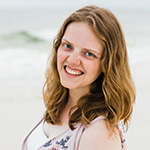 Erin is a Cleveland native and graduate of the Franciscan University of Steubenville. Following graduation, she began volunteering in youth ministry at her home parish of Holy Family Church. Her first "big girl" job was in collegiate sports information where, after a busy two years in the profession on top of serving the youth, she took a leap of faith and followed the Lord's call to full-time youth ministry at St. Peter Church. She still hopes to use her communication arts degree as a freelance writer and statistician, though. You can catch her on the Clarence & Peter Podcast on YouTube as well as follow her on Twitter @erinmadden2016.