"We fight one another, and envy arms us against one another…. If everyone strives to unsettle the Body of Christ, where shall we end up? We are engaged in making Christ's Body a corpse. We declare ourselves members of one and the same organism, yet we devour one another like beasts."
-St. John Chrysostom, Hom. in 2 Cor. 27:3-4
In this month that has the Feast of St. Valentine, a celebration of love, we start the month reflecting on what happens when we allow envy into our lives. St. John Chrysostom doesn't pull any punches. The Catechism tells us that envy can lead to the worst crimes. (CCC 2538) "Envy is a capital sin. It refers to the sadness at the sight of another's goods and the immoderate desire to acquire them for oneself, even unjustly."
In the first reading, David, who was so beloved of God that David says to God, "Keep me as the apple of your eye," (Ps 17:8), this same David has messed up. Big time. It isn't just that he took Uriah's wife. (Although that is bad enough.) The taking of Uriah's wife is the symptom of a graver evil happening in David's heart.
David, who started life as the youngest son in a family of boys, shepherd of the family's sheep, is called by God to be the king of the Jewish people. He is to be a king in God's own image, the apple of God's eye.
The God, who created all the world out of love and to love in return, created David to rule His chosen people. But King David, who already had multiple wives, looks upon another man's wife. He forgets about love. He neglects to see her as God created her. He neglects to see her as a woman joined to another man. David sees her as an object to be desired. He wants her physically, brazenly, brokenly. Because he is the king, David uses his God-given role to bring her to his side. He indulges his desires, and she gets pregnant. David attempts to cover it up by calling home Uriah, and when that plan fails, he has Uriah killed.
In today's readings, Nathan calls David out. David may think he has manipulated the situation and gotten what he desired, but he has forgotten the earlier desires of his heart, to serve God and to do God's will, to be God's beloved.
David has committed the same sin as Adam and Eve. He has given in to envy and tried to follow his own plan. Adam and Eve and then David lost trust in God's benevolence. They thought they knew better. Seeing what they didn't have and couldn't have, they desired it. They experienced envy. "Through the devil's envy death entered the world." (Wisdom 2:24) St. Augustine saw envy as "the diabolical sin". (CCC 2539) "From envy are born hatred, detraction, calumny, joy caused by the misfortune of a neighbor, and displeasure caused by his prosperity." When we allow envy to take root in our life, we give hatred and all its dark companions the opportunity to take root in our hearts.
How do we strive to end this envy? How do we end the fighting and dismembering of the Body of Christ?
We can find one answer in the Gospel reading. Jesus asks the disciples to cross the sea, and then he goes to sleep in the boat. In the meantime, a squall comes up, and the disciples begin to fear for their lives. Were they envious of Jesus peacefully sleeping in the midst of the storm? They wake him up and ask if he even cares they are perishing! Jesus calms the sea and asks them if they do not yet have faith.
"The time of the Christian is that of the risen Christ who is with us always, no matter what tempests may arise." (CCC 2743) Sometimes the tempests are literal storms that wreak havoc on our homes and carefully ordered lives. Sometimes the tempests are troubles that come upon us unbidden such an injury or loss. Sometimes the tempests are our own unbridled passions, as when we allow envy to have control of our thoughts and our hearts.
So what do we do? We persevere in love and prayer. As we persevere in prayer, we move into a position of trust, and we open ourselves up so that God can work miracles in our lives. The genealogy of Jesus in the Gospel of Matthew establishes Jesus as the Son of David, Son of Abraham. In a culture where family ties pass through the father, there are four women mentioned in Jesus's family tree, and one of them is Uriah's wife. When we have faith and trust that God is present even in the tempests, God can bring about great things. We can look at others and share in their joys and their sorrows without getting bogged down in comparisons.
Prayer and the Christian life are inseparable, for they concern the same love. Through prayer and living the Christian life, we cooperate with the Father's plan of love and the Holy Spirit, who conforms us more and more to Jesus Christ until we have the same love for all men; the love with which Jesus loved us. (CCC 2745) So when you find envy creeping in, pray, pray, pray, and don't stop.
Let's end as we began, with St. John Chrysostom: "It is possible to offer fervent prayer even while walking in public or strolling along, or seated in your shop,… while buying and selling, …or even while cooking."
Wherever you are today, here's to prayer and trusting God's presence in the tempest.
Amen.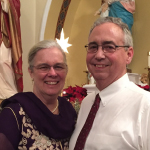 Sheryl delights in being the number 1 cheerleader and supporter for her husband, Tom who is a candidate for the Permanent Diaconate in the Diocese of Kalamazoo. They are so grateful for the opportunity to grow together in this process whether it is studying for classes, deepening their prayer life or discovering new ways to serve together. Sheryl's day job is serving her community as the principal for St. Therese Catholic School in Wayland, Michigan. Since every time she thinks she gets life all figured out, she realizes just how far she has to go, St. Rita of Cascia is her go-to Saint for intercession and help. Home includes Brea, a Bernese Mountain dog and Carlyn, a very, very goofy Golden Retriever.