It's the first Saturday of Advent. We know it is a time of anticipating and preparing for the coming of our Lord. There is a flurry and hum to this season as we actively wait for the infant's birth.
Actively waiting? I hadn't heard the term; however, the concept makes a lot of sense. Think about it; waiting implies that something expected is going to happen to you or to be in readiness for an event to happen. I wait for the water to boil before I make a cup (who am I kidding, a pot) of black tea. I wait to hear the outcome of someone's medical procedure. I wait in line to go to confession and receive the grace and mercy of God through His forgiveness. I wait in line to receive the presence, love, and grace of His Son in the Eucharist at Mass. I wait to put up the nativity scene as Advent is four weeks long. (Historically, Joseph and Mary hadn't even left at this point in time to go to Bethlehem for the census).
I could just rock back and forth on my heels or drum my fingers while I wait. Typically, I am doing some kind of preparation to ready myself in anticipation of an event. Lists are made or post-it notes scribbled with prompts to remind me of what needs to be done. Many times, I forget to start the lists and notes with a prayer as well as to weave prayer in throughout the process.
I also forget the last line of today's gospel, a line that usually is overlooked. "We have received without cost; without cost, we are to give."
As children, we can be oblivious to having a winter coat or a warm bed that waits for us at the end of the day. For so many of us, those things were given without a cost to us.
I had a friend who didn't have a winter coat. My family wanted to give one to her from our front hall closet (it was very gently used). The offer was refused because of a perception that the gift needed to be reciprocated (I didn't find this out until years later). I have had a couple of friends over the years who've needed a place to live due to the loss of their family home. Each time I had an empty bed, so the offers were accepted. I have friends who insisted I sleep in their home after a minor surgery, to make sure I was O.K. after being under anesthesia.
What does it cost you to give to someone else? Your time? It doesn't cost anything to give blood. You can donate gently used clothing and shoes to a shelter or community organization. Isn't there a person who lives close that you know doesn't get out (or have people coming to visit them)? Just saying hello, waving a greeting, or bringing a garbage can from the curb can be a small friendly gesture. By adding an extra item or two to your grocery cart the next time you are shopping, add the item as a donation to the food pantry at church, which is given to those who are in need.
Are you available to be open and vulnerable by trusting another with your own personal story or to listen without judgment to someone else's journey, which needs to be heard in a safe space to vent?
Take a moment; what are you actively waiting for this Advent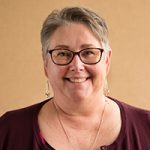 Beth is part of the customer care team at Diocesan. She brings a unique depth of experience to the group due to her time spent in education, parish ministries, sales and the service industry over the last 25 yrs. She is a practicing spiritual director as well as a Secular Franciscan (OFS). Beth is quick to offer a laugh, a prayer or smile to all she comes in contact with. Reach her here bprice@diocesan.com.