This past weekend, we listened to the Sunday Gospel in which Jesus is amazed by the soldier's faith in him. We receive the line that we hear in Mass each week as the centurion says, "Lord, I am not worthy to have you enter under my roof; only say the word and my servant will be healed."
I go back to this gospel because, in today's readings, we are reminded of three things:
Trust in our Lord

Give thanks to the Lord

Faithful action leads us to the Lord
This short list is what we need to do in our daily lives to get to heaven and when I list it out, it looks so simple! In practice, we know it's a bit more difficult. Here are some things you can start doing to prepare for the coming of Christ on Christmas day.
Trust
Trusting in the Lord means relinquishing control and allowing ourselves to feel the peace of God's will. Allow yourself to understand that your plan may not always be God's plan for you. Take the time to write down the times your plan has gone wrong only for it to all work out better than you had hoped. When things aren't going your way, pray, "Not my will, but yours be done."
Giving Thanks
With Thanksgiving weekend just barely behind us, it is the perfect time to continue giving thanks to the Lord besides when you go to Mass on Sundays and before meals. Open your eyes to the wonders of God in your life. Say prayers of thanksgiving when you wake up and before you go to bed. Thank God for not only the good in your daily life but also for the struggles that make you stronger and guide you along His path for you.
Faithful Action
This can be the most difficult for people to do. What is faithful action? To me, it's taking the time to be present with your faith and the people you should be sharing it with. Ask your friends if they want to attend Mass with you and then go out to eat and discuss the readings. Say Merry Christmas instead of Happy Holidays. Find ways to serve your community through soup kitchens, your local St. Vincent de Paul Society, or consider making your own Boxes of Love for the homeless.
Through each of these ideas, you will be preparing your heart not only for the coming of Jesus at Christmas but for the kingdom of heaven.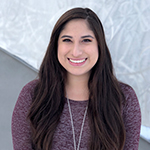 Veronica Alvarado is a born and raised Texan currently living in Michigan. Since graduating from Texas A&M University, Veronica has published various articles in the Catholic Diocese of Austin's official newspaper, the Catholic Spirit, and other local publications. She now works as the Content Specialist in Diocesan's Web Department.