If you've ever heard me speak, you've undoubtedly heard me ask, "Why are we here? What are we supposed to be doing on this planet?" Because every important journey begins with understanding where we are headed and how to get to the destination. There are all kinds of things we can wonder about and discuss, but if we miss the whole point of our existence, we will spend a lot of time on things that do not help us to our goal. We have to keep going back to our beginning to understand our end!
We exist because God willed our existence, continues to will our existence, and His endless creating love works with our wills and our circumstances to continuously create our existence. He created human beings who could share His own life of joy and peace and love, and He is continuously creating. Why? Because He loves us and wants us to dwell with Him eternally.
In Genesis, God DWELLS WITH Adam and Eve, walking in Eden in the cool of the evening. When they allow their trust in Him to die and choose their own way rather than His, He must send them out of this Paradise and no longer dwell with them. A door was closed.
But Jesus came to restore this relationship: "the Word was made flesh, and dwelt among us" (Jn 1:14). Jesus came to reopen the door that was closed so that God could DWELL WITH US again. And before his death, Jesus leaves his disciples with the Gift that will allow him to remain with us until he comes in glory: in the Sacraments, particularly in the Eucharist, Jesus can be with each one of us throughout our lives.
In the end, we read in the Book of Revelation, "the DWELLING OF GOD IS WITH MEN, and He will live with them" (Revelation 21:3). God made us in His image and likeness, and this image and likeness is love and communion – a communion of Persons, loving one another perfectly, and desiring to share that loving communion with others because love is effusive of itself.
In today's Gospel, we glimpse the Trinity: Jesus – the Son – is rejoicing in the Holy Spirit and praising the Father. This is a model for our own prayer: we pray with/in Jesus, to the Father, through the Spirit. We can do this because Jesus, who is one like us in all things (except sin!) is also equal to, consubstantial with, the Father; no one knows who the Son is except the Father, and who the Father is except the Son, and this knowing and loving IS the Holy Spirit. This is how Jesus can say in another place that those who have seen him have seen the Father.
During Advent, as we prepare to welcome the Child in the manger, let us also remember that He is our Savior, who came to open the door so that He could dwell with us as Emmanuel: "God-with-us."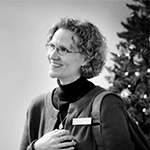 Kathryn Mulderink, MA, is married to Robert, Station Manager for Holy Family Radio. Together they have seven children (including newly ordained Father Rob and seminarian Luke ;-), and two grandchildren. She is a Secular Discalced Carmelite and has published five books and many articles. Over the last 25 years, she has worked as a teacher, headmistress, catechist, Pastoral Associate, and DRE. Currently, she serves the Church as a writer and voice talent for Catholic Radio, by publishing and speaking, and by collaborating with the diocesan Office of Catechesis, various parishes, and other ministries to lead others to encounter Christ and engage their faith. Her website is https://www.kathryntherese.com/.