"You know the time;
it is the hour now for you to awake from sleep.
For our salvation is nearer now than when we first believed;
the night is advanced, the day is at hand."
-Romans 13:11
Here we are at the beginning of Advent once again. I love the beauty in the liturgical calendar how we are either preparing our hearts or celebrating what God has done for us, but I think because it happens every year we tend to forget the point of Adevnt.
Sure, it is to prepare our hearts for the coming of Christ in the flesh but it is also to wake up to the reality of salvation. I love that the scripture today talks about awaking from sleep. I immediately think back to the garden and that first sleep that Adam was put into before Eve was created.
The original word for this sleep is topror, and it is not the same as taking a nap or sleeping through the night. This sleep means almost to be called out of existence. When Adam fell asleep it is as if he was called out of existence and woke up with the new reality of the human person as both man and woman, a brand new creation.
How does this relate to the reading? Well, here we are being reminded to awake from our sleep. After the fall we were put into another sleep if you will. We lost the inheritance that was given to us from the beginning. We almost ceased to exist as we were created and began existing as fallen humanity.
We should be reminded of this reality during this pentitential season, but more than that we should be reminded that Christ came to wake us from our sleep and remind us of how we were created. He came as man to remind us what the ultimate human looks like and how we are meant to be. After all, our destiny is to participate intimately in the divinity of God himself.
So this advent season let's wake up. Let's all try to take some time to prepare our hearts for the wake up call that comes at Christmas. We wake up that morning and are instantly reminded of our desitny, almost as if we are called back into our original existence. That is something to celebrate, but first we must prepare. From all of us here at Diocesan, God Bless!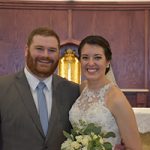 Tommy Shultz is a Solutions Evangelist for Diocesan. In that role, he is committed to coaching parishes and dioceses on authentic and effective Catholic communication. Tommy has a heart and a flair for inspiring people to live their faith every day. He has worked in various youth ministry, adult ministry, and diocesan roles. He has been a featured speaker at retreats and events across the country. His mission and drive have been especially inspired by St. John Paul II's teachings. Tommy is blessed to be able to learn from the numerous parishes he visits and pass that experience on in his presentations. Contact him at tshultz@diocesan.com.