Does your parish church have stained glass windows? Then you will appreciate Pope Benedict XVI's observation that from the outside, the windows look dark and dull, but when you are inside the Church, they are richly and brilliantly illuminated.
That is another kind of parable for the lesson of Jesus in today's Gospel. We see Jesus Himself as the "nobleman" who went to obtain a kingship, giving ten of his servants a gold coin worth 100 days' wages before he left, giving them specific instructions to "engage in trade" with them. After he became king, he returned to check the "return on investment," as it were.
These coins can be seen as the talents and graces we are freely given. The Lord gives us everything and invites us to freely put our gifts and our lives in his service and the service of others. He asks us to use what we have (without comparing it to what others have!) to engage fully in life, to help others, and to glorify God. To those who do this generously, Jesus promises a generous reward!
But if we refuse to use what we have been given, it will be as if we have chosen to remain outside the church building in the cold, seeing it as a stone mountain into which we dare not enter. From outside, we cannot see the light streaming in through the colored windows, or enter into the hymns of praise rising up from the People of God or partake of the rich banquet of the Body and Blood of Christ. We, therefore, keep ourselves separated from communion with God and His family!
Many things can keep us from fully engaging our gifts: fear, selfishness, ingratitude. We may not really know what we have or what we can do; we may be using our energies to satisfy our own wants and forgetting to look at ways to serve others; we may be blinded by a conviction that we really don't have enough to give; we may be afraid of the risks of taking our spiritual responsibility seriously; we may be focused on counting the costs. All of these attitudes and more can impel us to "wrap our coin in a handkerchief" rather than "engage in trade"!
Where do we begin to shift engagement? We can begin by making sure that our relationship with God truly has first place in our lives. Then we can take a look at the duties and responsibilities before us, in our family and at work, and assess whether we are doing all we can for the people around us. Next, we can look at our parish, to see where we might be of service to further the mission of the Church!
We need not fear that we will run out of anything. If we are doing what God calls us to do, we are given more! When we engage our gifts and talents in His service, we will always have all we need.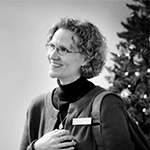 Kathryn Mulderink, MA, is married to Robert, Station Manager for Holy Family Radio. Together they have seven children (including newly ordained Father Rob and seminarian Luke ;-), and two grandchildren. She is a Secular Discalced Carmelite and has published five books and many articles. Over the last 25 years, she has worked as a teacher, headmistress, catechist, Pastoral Associate, and DRE. Currently, she serves the Church as a writer and voice talent for Catholic Radio, by publishing and speaking, and by collaborating with the diocesan Office of Catechesis, various parishes, and other ministries to lead others to encounter Christ and engage their faith. Her website is https://www.kathryntherese.com/.