"Oh, if only the suffering soul knew how it is loved by God, it would die of joy and excess of happiness! Some day, we will know the value of suffering, but then we will no longer be able to suffer. The present moment is ours."
-St. Faustina
Have you ever wondered why suffering exists, why we can't just have constant joy in our lives? The truth is that we can have constant joy, as joy is not a fleeting emotion but rather something that is rooted in our love for God and trusting in His providence. Even amongst the worst times of our lives, we can find joy. This still does not answer the question of why suffering exists, and I would like to try to answer this based on today's readings.
In the first reading from the Letter of Saint Paul to the Romans we hear the following passage:
"Just as you once disobeyed God but have now received mercy because of their disobedience, so they have now disobeyed in order that, by virtue of the mercy shown to you, they too may now receive mercy. For God delivered all to disobedience, that he might have mercy upon all. Oh, the depth of the riches and wisdom and knowledge of God! How inscrutable are his judgments and how unsearchable his ways!" (Romans 11:30-33)
When we experience suffering, a few things are happening. First of all, it is an opportunity to lean more upon God. If things were perfect all the time we would not draw close to Him because we would feel an ability to take care of ourselves – we need God above all, and suffering reminds us of His Almighty power. Secondly, suffering allows for mercy to work in our lives and serves as a witness to God's love.
Ultimately, finding joy in suffering is very counter-cultural. This concept is radical to the outside world, but isn't the love of God, sending His only Son very radical in itself? God's love for us is a crazy and radical love, therefore it only makes sense that we live in a way that reflects this love – trusting in God's providence, enduring the suffering, and finding a constant joy amidst the storms of life. Not only will we be witnesses of God's love but we will be further grateful for the happy times of life and more resilient to endure the tough times by continually relying upon God for everything.
St. Maximilian Kolbe, pray for us!
St. Faustina, pray for us!
St. Teresa Benedicta of the Cross, pray for us!
St. John Paul II, pray for us!
Our Lady of Fatima, pray for us!
Sacred Heart of Jesus, have mercy on us.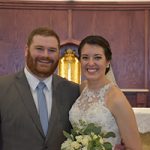 Nathalie Shultz is a joyful convert to the Catholic faith and a competitive swimmer with Obsessive Compulsive Disorder (OCD). She loves to share her passion for Catholicism with others, including her conversion story and how God continues to work miracles in her life through her OCD. She is the Director of Religious Education for the North Allegan Catholic Collaborative of parishes. Nathalie is married to her best friend, Tommy Shultz. Her favorite saints include St. Peter the Apostle, St. Teresa of Calcutta, and St. John Paul II. She is also a huge fan of C.S. Lewis. If you have any questions for Nathalie, or just want her to pray for you, you can email her at rodzinkaministry@gmail.com.