"Lord, what am I supposed to be doing?"
Have you ever wondered or asked the Lord why you are alive, or what He wants you to do? Have you ever thought that this is almost impossible to know without some "writing on the wall"? Well, it's usually clearer than that.
Today's Gospel reminds us of the call to be faithful stewards of God's gifts. We all, deep down, want to do this. We mean it when we make our resolutions, when we dedicate ourselves to a good cause, when we make a promise. But what gets in the way of our ability to fulfill our resolutions, maintain our energy for a good cause, or keep a promise?
These are the questions we should ask ourselves as we hear about the Master returning to demand an accounting. Because each of us is entrusted with a task, each of us has a vocation, each has been entrusted with a mission. What is keeping us our fulfilling our God-given mission?
In many cases, it is simply our inability to recognize our God-given mission.
Once, on a long camping trip with my husband and seven small children, I was trying to prepare myself for morning Mass by recollecting myself somewhat. But the kids were rambunctious and someone spilled something and another started crying and my heart achingly (and somewhat foolishly) asked: Lord, how can I focus on You with all this? And He spoke to my heart clearly: "I am right here, IN all this." My God-given mission in that moment was to attend to this beautiful rabble.
God's will for us is usually revealed to us in the duties and interruptions of the present moment. We are entrusted with taking care of the people and things that are our natural duty to take care of (usually parents, spouses, children, our home, job, etc.). We are called to attend to the people and situations that present themselves before us as a matter of course. The things that "cross our path" today are God's task for us. God's will is usually right here, not elsewhere.
On a wider scale, our calling is usually revealed in the gifts and charisms we possess from God. These charisms, in turn, are often revealed to us in the subjects we enjoy or excel in, or in the talents others see in us. My husband appreciated the logic of electricity and switches; he became an electrician. My teachers consistently praised my writing; now I write. My son found a deep joy in sharing the faith; now he is a priest.
So what are we supposed to be doing? Probably what we are doing right now. And if we do it as well as we can, as wholeheartedly as we can, leaning into the Lord and not merely our own resources, we are doing our part to advance the Kingdom in some way and contribute to the fruitfulness of the Body of Christ. And when the Master returns, He will not be disappointed.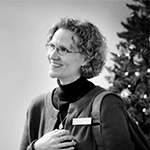 Kathryn Mulderink, MA, is married to Robert, Station Manager for Holy Family Radio. Together they have seven children (including newly ordained Father Rob and seminarian Luke ;-), and two grandchildren. She is a Secular Discalced Carmelite and has published five books and many articles. Over the last 25 years, she has worked as a teacher, headmistress, catechist, Pastoral Associate, and DRE. Currently, she serves the Church as a writer and voice talent for Catholic Radio, by publishing and speaking, and by collaborating with the diocesan Office of Catechesis, various parishes, and other ministries to lead others to encounter Christ and engage their faith. Her website is https://www.kathryntherese.com/.