In today's first reading, we read that God's chosen people, Abraham's descendants, were not going to be saved because they followed the law, but because they had faith. Reading this, I was reminded of a conversation that my family once had at the table one Sunday.
To give a bit of background, my Sundays growing up were for family. We would attend Mass together, socialize with our parish family, gather in the kitchen as my dad cooked breakfast, then eat as a family. After breakfast, we would stay at the table, talking for an hour or more. During these post-breakfast discussions, we normally discussed that morning's homily and the readings. Even now, I'm nostalgic!
One Sunday, we got on the topic of being a good person versus being a good Christian/Catholic. I remember how funny it was because although we were all on the same side, it became a heated debate. We all (loudly) agreed on the fact that being a "good person" is all fine and dandy, but without the love of God and trust in God behind the action, you are not earning your place in heaven.
Our faith is what separates us from other religions. Our faith is what gives us passage to life eternal. Following rules for the sake of following rules, even the commandments, is only the surface level of the faith that we are taught. We are meant to believe, to have faith, and to live out Christ's mission of truth and love for all creation.
In today's Gospel, we are reminded again of the strength that faith has as Jesus tells us:
"When they take you before synagogues and before rulers and authorities, do not worry about how or what your defense will be or about what you are to say. For the Holy Spirit will teach you at that moment what you should say." (Luke 12:11-12)
This passage reminds us that through faith, we are given all the tools we need to not only make it through our days here on earth, but the tools needed to guide us to Heaven.
If our salvation and redemption rely on faith, are you confident in your trust in the Lord? Does your faithfully rely on God, or are you still fighting for control?
How much faith do you put in your faith?
Click here to read some helpful tips on "Trusting God Through the Storm".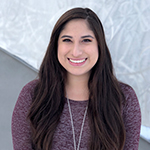 Veronica Alvarado is a born and raised Texan currently living in Michigan. Since graduating from Texas A&M University, Veronica has published various articles in the Catholic Diocese of Austin's official newspaper, the Catholic Spirit, and other local publications. She now works as the Content Specialist in Diocesan's Web Department.