I recently got the chance to meet an incredible Healing Ministry that is doing the Lord's work in my diocese. If you are unfamiliar with prayer teams like this, the focus is on the Holy Spirit, and they simply pray with you and for your intentions, spiritual or physical. Having gone to the Franciscan University of Steubenville, I am pretty comfortable with charismatic prayer and was truly blessed by my experience with this prayer team. Lately, I've become more interested in the topic of God's healing.
This week I hosted a FORMED series at my parish on the Eucharist, Presence: The Mystery of the Eucharist. After watching the first episode, I invited everyone to share their thoughts and reflections. A man named RV prophetically shared on the reality of God's power. The fact that God transcends time and science at every consecration of the Eucharist is similar to an explosion that just happens throughout the world at different times every single day. We went on from these words to thinking about God's bigness and smallness. These questions were meant to be wrestled with and that's we did.
In today's Responsorial Psalm, I was reminded of this great might. "Making known to men your might and the glorious splendor of your Kingdom. Your Kingdom is a Kingdom for all ages,
and your dominion endures through all generations. Your friends make known, O Lord, the glorious splendor of your Kingdom." In the Gospel today we hear the reality that we will be sent out like lambs among wolves. I'm sure each of us can understand that analogy in our world today. But what struck me is that Jesus didn't tell us to grab some armor for protection, but calls us to bring peace. "Into whatever house you enter, first say, 'Peace to this household.'" There is no need for armor because God is with us in all things and because of that there should always be a sense of peace coming from faithful Christians. His last mission he gives to the disciples is to "cure the sick in it and say to them, 'The Kingdom of God is at hand for you.'" He gave the power to His disciples to physically heal the sick and proclaim the truth that the Kingdom of God is at hand. In all seriousness, do we believe that God can heal us today? Do we believe that the Kingdom of God is at hand right now in this very moment? I do and I hope you do too. Today, may we wrestle with the reality that God can do what you think is impossible. Whether He does it or not, He can. May you experience the healing that you desire, if it be His will. Amen.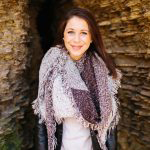 Briana is the Pastoral Minister at St. Mark Church in Cleveland, OH. She is also a district manager at Arbonne. She received her Bachelor of Arts in Theology and Catechetics from the Franciscan University of Steubenville, OH and is excited to use these skills to serve the Church. "My soul has been refined and I can raise my head like a flower after a storm." -St. Therese