We all know that prayer is the way we converse with God, but we often feel a bit lost about how to pray. Reciting prayers is one thing; truly praying is another. Maybe you've seen someone at prayer and been struck by how they seem to be able to converse with One they know loves them! The disciples must have been struck in a similar way when they saw Jesus pray, so they asked Him to teach them how to pray like that. And Jesus gave them – and us – the words we pray together so often in the "Our Father."
This is the only "prayer" Jesus gave us. Yet we too often rattle off the words as if we were in a hurry to get to something else! Long ago, I realized that the words Jesus gave us must be meditated on so that they sink into the fibers of my being and become part of my DNA, as it were. So I decided on a method I'd like to share with you:
Each day of the week, I focus on one phrase of the prayer. It becomes the "background music" to all my other prayers and meditations of the day, and the prayer phrase I repeat throughout the day.
SUNDAY: "Our Father, who art in heaven." Jesus always prayed and acted in the fullness of His divine Sonship, acknowledging his Father as ALL. We can spend this day thinking about our own adoption as children of God and heirs with Christ, gathered together as one Body in Christ to worship the Father Who is Love.
MONDAY: "Hallowed be Thy Name." The Name of the Lord is thrice-holy, and to be reverenced and glorified by us. We can think also of the many "names" of God: Creator, Sanctifier, Savior, Father, Son, Spirit, Love, Mercy, etc. We can also make some act of reparation for those who do not reverence the Names of God.
TUESDAY: "Thy Kingdom come." God willed that His Kingdom be established on earth, so that all creation might fulfill its purpose. His kingdom is established one heart at a time, as each one surrenders fully to the reign of love and peace. But there is a battle that has been waged from the beginning against this Kingdom on earth, and the Enemy is never asleep. What can we do to allow Christ to reign fully in us?
WEDNESDAY: "Thy will be done on earth as it is in Heaven." How is God's will done in Heaven? Promptly, perfectly, lovingly, joyfully, trustingly, peacefully. Also, effortlessly, but we will have to wait until we are also in Heaven to act effortlessly. While we are here on earth, we can focus on asking often throughout the day: What do You want in this situation, Lord? How can I be Your instrument of love in the world? I want to do YOUR work, YOUR way; YOUR will for YOUR glory.
THURSDAY: "Give us this day our daily bread." I love the fact that when you line up the petitions of the Lord's Prayer with the days of the week, the petition for our "supersubstantial bread" comes on the day when we traditionally honor the Eucharist because of Its institution at the Last Supper on Holy Thursday. We ask the Lord to give us this day our daily bread; give us today what we need for today; give us this moment what we need for this moment. We entrust tomorrow to the Lord's Providence.
FRIDAY: "Forgive us our trespasses as we forgive those who trespass against us." Again, is it a God-incidence that the petitions line up so that on Friday, traditionally a day of penance, we beg forgiveness for our sins? The words for today remind us that we are forgiven AS WE FORGIVE, and is a call to let go of any resentments or grudges that obstruct for us the wide horizon of God's love.
SATURDAY: "Lead us not into temptation, but deliver us from evil." Finally, we ask the Lord to guide us on our way so that we might walk along paths that will lead to Him and not to confusions, questions, danger, and sin. It is a way of asking that God's mercy and love accompany and lead us toward Himself.
These are only springboards to your own meditations, and I pray that all of us receive the grace to continually dive more deeply into the words Jesus gave us as a guide to prayer!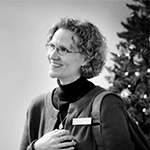 Kathryn Mulderink, MA, is married to Robert, Station Manager for Holy Family Radio. Together they have seven children (including newly ordained Father Rob and seminarian Luke ;-), and two grandchildren. She is a Secular Discalced Carmelite and has published five books and many articles. Over the last 25 years, she has worked as a teacher, headmistress, catechist, Pastoral Associate, and DRE. Currently, she serves the Church as a writer and voice talent for Catholic Radio, by publishing and speaking, and by collaborating with the diocesan Office of Catechesis, various parishes, and other ministries to lead others to encounter Christ and engage their faith. Her website is https://www.kathryntherese.com/.