Recently, I was hanging out with a friend that is more direct than most people. She was complaining of not having plans for Halloween and stated that I have the perfect home for hosting parties. She asked why I haven't thrown one yet. The hint was pretty clear, she wanted me to host a Halloween party, and I had no excuse not to. She was right; I have a perfectly fine home to invite friends into. Now, I confessed that I hadn't hosted anything before because it makes me anxious. I have struggled with anxiety and panic attacks throughout the ups and downs of my life. Even though a party is no reason for anxiety, I'd beg to differ. The list of common worries goes like this; "What if no one shows up? What if it's boring? What if I don't have enough food or drinks?" The list goes on, but you get the picture.
I knew at some point I'd have to get over these fears and host a party, so that is what I am doing. I started looking through Pinterest for fun Halloween themed food and drinks. Now there is an expectation I will probably not meet. Why am I telling you all of this? Well, after reading the Gospel for today, I completely felt for Martha in a whole new way. Throughout my life I always tended to roll my eyes at Martha in this story, like come on girl, just come sit by Jesus' feet too. I didn't understand the stress of hosting and all that comes with it. Although my party is still a few weeks away, I have made myself a To-Do list that seems a mile long, and if my husband were to not help me on the day of the party, I would have the same question as Martha.
She was burdened with much serving. I can picture her trying to do a million things at once, and she approaches Jesus with frustration, "Lord, do you not care that my sister has left me by myself to do the serving? Tell her to help me." Jesus responds, "Martha, Martha, you are anxious and worried about many things. There is need of only one thing. Mary has chosen the better part, and it will not be taken from her."
I love this story because Jesus is not only telling Martha that He knows all her anxieties and worries. He knows ours too. Forget about the silly task of throwing a Halloween party; there are much bigger parts of our lives that we all worry about! Let's think about that for a moment, the worries you have today about your future, health, job, friend, or problem, all those things are fully known by Him. There is comfort in the fact that He knows they exist; they are not something of our imagination or something that is passed by or deemed unimportant. No, He is well aware of the troubling worries and anxieties we have in our day to day lives, but he doesn't leave us there. In this Gospel, He shares what the need of only one thing is, Him. He is the better part that will not be taken away.
When big or small worries and anxieties overwhelm us, let us learn from Mary and choose to sit at His feet. He is the answer, the better part, the need for only one thing. How differently would our hearts carry the crosses of anxiety and worry, if we responded to them by spending more time with Him? My challenge for you is to be like Mary, to choose to spend time in prayer, listening to His voice when the voices of anxiousness and worry try to bind you. Let us bring it all to Him and sit at His feet.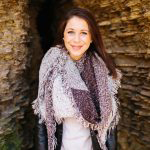 Briana is the Pastoral Minister at St. Mark Church in Cleveland, OH. She is also a district manager at Arbonne. She received her Bachelor of Arts in Theology and Catechetics from the Franciscan University of Steubenville, OH and is excited to use these skills to serve the Church. "My soul has been refined and I can raise my head like a flower after a storm." -St. Therese