This morning, my dad called me as I drove into work, and I immediately knew why he was calling. My great uncle, who had been like a grandfather to me, had passed away. As I hung up, I had to pull over and cry. Between the stressful weeks at work and the end of my relationship the night before, it was just too much.
I felt so lost, so broken, and just so sad. I let my boss know I would be coming into the office late and went straight to the Cathedral.
Kneeling in front of Mary, I asked for peace and her unwavering trust in God's plan. Mother Mary heard my cries, and I immediately remembered something a priest said as he was greeted by his parish staff. They asked him how he was doing, and he responded with, "Thanks be to God that I'm still alive. Although, if I were to die, what a blessing that would be!"
The whole parish staff sat in the room and gasped in disbelief, shock, and concern. They joked about the fact that he's the one who performs the funerals and that everything would be thrown into chaos. The priest then reminded us all that death is the passage that gives way to eternal communion with God. He reminded us that our life spent on earth is only to get to heaven, so what a blessing it would be to be called home by God.
Sometimes we forget that while our life is important, it is also temporary. We forget that we are only here to get there. We forget that through God, even in death, there is peace and joy.
Today's first reading and the responsorial psalm are both about joy. The joy of Ezra reading the bible to the people was truly a celebration, complete with reading from the bible for the length of the 7-day feast. The responsorial psalm reminds us that God's commandments give joy to the heart.
In life and in death, we can feel the joys of God's presence, or we can feel the sorrow in believing that we are alone.
I've said before that while a situation may be out of our control, our joy is a choice we can always make. I wrote it for you just as much as I wrote it for myself. Many times, I lose my joy for a day, a week, a month. I feel the sadness and the heaviness of my cross weigh down on me and choose to selfishly and naively think that I carry the burden by myself.
My brothers and sisters, we are always offered joy, and we are not alone.
As you read this, I'm not sure if you are living in joy or feel alone, but today I ask that you pray for all those suffering:
Deliver us, thus, Oh God, from the time of trial and temptation.
But when this time arrives for us, Our Father, show us that we are not alone. You are the Father. Show us that Christ has already taken upon himself the weight of that cross too. Show us that Jesus calls us to carry it with him, abandoning ourselves trustfully to your Fatherly love.
Thank you.
Prayer from Pope Francis' address to the General Audience on May 1, 2019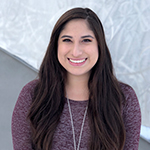 Veronica Alvarado is a born and raised Texan currently living in Michigan. Since graduating from Texas A&M University, Veronica has published various articles in the Catholic Diocese of Austin's official newspaper, the Catholic Spirit, and other local publications. She now works as the Content Specialist in Diocesan's Web Department.