Today's Gospel reading poses a very specific question, "Are you honest or dishonest?" We're informed by Scripture that one who is trustworthy in small matters is also trustworthy in great ones, but one who is dishonest in small matters is also dishonest in great ones.
The Scripture refers to the topic of wealth and the belongings of others. How do we, as Catholics, handle money? Are we trustworthy or dishonest with our own money or the money of others? In all topics, I hope, we are striving to be honest and true in our words and actions.
This Gospel ends with the fact that we cannot serve two masters. "He will either hate one and love the other or be devoted to one and despise the other. You cannot serve both God and mammon." This is crucial! Our hearts cannot be divided; there is no place for a split between serving God and idolizing other things, whether that's wealth, jealousy, or dishonesty.
Let us reflect today and check in on our hearts to make sure that we serve one Master, Jesus Christ, who was rich and became poor so that by his poverty, you might become rich. Serving this Master with all honesty in our words and actions is the true place of joy, the richness of grace, and the Kingdom of God. Let's have our eyes on what truly matters, let us serve Him in small and great matters with trustworthy and honest hearts.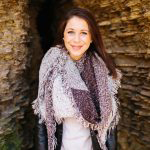 Briana is the Pastoral Minister at St. Mark Church in Cleveland, OH. She is also a district manager at Arbonne. She received her Bachelor of Arts in Theology and Catechetics from the Franciscan University of Steubenville, OH and is excited to use these skills to serve the Church. "My soul has been refined and I can raise my head like a flower after a storm." -St. Therese