On this Feast of St. Matthew, we acknowledge all the Apostles – those specially chosen by Christ to lead the Church he came to establish for the salvation of all! In a particular way, of course, we look at St. Matthew himself, and the Gospel he wrote records his own calling.
We only know the details provided, which are few, so we are prompted to ask:
Could Matthew have been following him at a distance for some time or was this the first time Jesus ever saw Matthew the tax collector? If so, what did Jesus see in Matthew that prompted him to say, simply, "Follow me."? What was moved in Matthew that prompted him to simply get up and follow?
We know that tax collectors did not have the esteem of the people, as the demands on them forced them to put demands on others! Perhaps there had been already a slow, gnawing discomfort in Matthew already, in which the counting of coins had lost its luster. Or perhaps that direct encounter with the Lord of Life shone so suddenly and startlingly and brightly in his heart that the coinage that made up his life was suddenly seen as nothing. In either case, it seems he left it all behind in that moment and then held a banquet to celebrate his new freedom in Christ.
This banquet – in which Christ was eating with "tax collectors and sinners" – outraged the Pharisees, who would have seen such persons as a contamination of their purity. Jesus, always rising above the fray, points out that he has come to heal the sick, to call sinners, not the righteous. The implication is that we must first recognize and acknowledge our own need for healing before we can avail ourselves of the medicine of mercy and grace.
How do you identify with this Gospel? With Matthew, who left everything immediately when he was called? With the Pharisees, who cannot yet see how love bends down to those in need? With other sinners at the banquet who are somewhere in between, benefitting from mercy but not sure they are ready to follow this controversial rabbi?
Wherever we are, let us allow the Lord's words to resonate through our lives and shed their light on every situation: "I desire mercy, not sacrifice."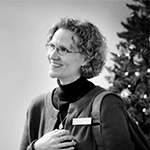 Kathryn Mulderink, MA, is married to Robert, Station Manager for Holy Family Radio. Together they have seven children (including newly ordained Father Rob and seminarian Luke ;-), and two grandchildren. She is a Secular Discalced Carmelite and has published five books and many articles. Over the last 25 years, she has worked as a teacher, headmistress, catechist, Pastoral Associate, and DRE. Currently, she serves the Church as a writer and voice talent for Catholic Radio, by publishing and speaking, and by collaborating with the diocesan Office of Catechesis, various parishes, and other ministries to lead others to encounter Christ and engage their faith. Her website is https://www.kathryntherese.com/.