"We ourselves feel that what we are doing is just a drop in the ocean. But the ocean would be less because of that missing drop."
–St. Teresa of Calcutta
Today we celebrate the feast day of St. Teresa of Calcutta, the dear saint that offered her life for those individuals that went unnoticed by society, cast out by those around them, and fighting for their lives every moment of the day and night. When we look at the impact of the work of Mother Teresa, we ultimately see Jesus. Amidst darkness, rejection, and fear, she continued to pursue serving the poorest of the poor and loving them in a way that honored their dignity.
I look at my life today, and I find myself greatly desiring to be like St. Teresa of Calcutta. I want to serve those in great need, be the hands and feet of Jesus to those individuals that go unnoticed, and I want to live a life of love for others with no reservations. I desire to be bold, meek, and to follow Jesus to the ends of the earth. When I look at my own life in comparison with this great saint I often find myself feeling as though what I do does not matter and that I will never be able to be like Mother Teresa – I focus upon my failure. These thoughts of negativity are not from God, but rather sprout from my doubt in God's plans for my life.
Ultimately I will never be able to be like Mother Teresa because God has called me to a unique mission that is different from anyone else. While my story may end up sharing similarities to Mother Teresa's mission it will never be exactly the same, and I will be most filled with joy when I answer God's call for my individual life. When I live in the present and stop comparing the value of what I do to others around me, I will be most fully alive.
Please remember one thing: you matter. No matter your state in life, no matter what you are doing or not doing right now, God loves you perfectly. He calls us to continually take up our cross and follow Him, for then we will become more of the saint that we are supposed to be, and we will never be the same. The quote at the top of this reflection is a powerful line of meditation when you face doubt about your worth – you are a drop in the ocean that is desperately needed in order to fill the ocean of God's love. I pray you remember your value and how loved you are – be in the present and trust God's plan for your life.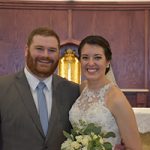 Nathalie Shultz is a joyful convert to the Catholic faith and a competitive swimmer with Obsessive Compulsive Disorder (OCD). She loves to share her passion for Catholicism with others, including her conversion story and how God continues to work miracles in her life through her OCD. She is the Director of Religious Education for the North Allegan Catholic Collaborative of parishes. Nathalie is married to her best friend, Tommy Shultz. Her favorite saints include St. Peter the Apostle, St. Teresa of Calcutta, and St. John Paul II. She is also a huge fan of C.S. Lewis. If you have any questions for Nathalie, or just want her to pray for you, you can email her at rodzinkaministry@gmail.com.