I love the sweet simplicity of today's Gospel. Philip was looking for Nathanel and as he finds him, shares that one whom the Jews were waiting for is here, Jesus son of Joseph, from Nazareth. But Nathaniel said to him, "Can anything good come from Nazareth?" Philip responds, "Come and see."
Nathaniel's response shocks us into remembering the complete humility of God. Nazareth is not a place anyone would expect the Son of Man, the Messiah, to come from. It is not high class, but ordinary. By Nathaniel's response, I think Nazareth is even a bit below an average town. Philip doesn't debate this with him but responds with a request for him to see for himself. All of us as Christians can take note of this simple response.
How often do we get into lengthy conversations when trying to evangelize? How often do we feel the need to defend and prove? We should be more like Philip and simply request others to come and see for themselves. When Nathaniel goes, he meets Jesus. Jesus greets him, and Nathaniel asks, "How do you know me?" Jesus goes on to say that he saw where he was before Philip went to get him, under the fig tree. Nathaniel then proclaims, "Rabbi, you are the Son of God; you are the King of Israel." Jesus answered and said to him, "Do you believe because I told you that I saw you under the fig tree? You will see greater things than this." And he said to him, "Amen, amen, I say to you, you will see heaven opened and the angels of God ascending and descending on the Son of Man."
Let us be like Philip today, bringing our friends closer to Jesus in simplicity. In the simple request of "Come and see." Let us remember that Jesus sees us in every moment of our day, like Nathaniel under the fig tree. He sees us in every moment of our day. We are fully seen and fully known, may that bring you peace today.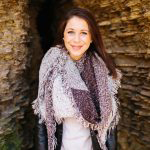 Briana is the Pastoral Minister at St. Mark Church in Cleveland, OH. She is also a district manager at Arbonne. She received her Bachelor of Arts in Theology and Catechetics from the Franciscan University of Steubenville, OH and is excited to use these skills to serve the Church. "My soul has been refined and I can raise my head like a flower after a storm." -St. Therese