"You shall love the Lord, your God, with all your heart, with all your soul, and with all your mind. This is the greatest and the first commandment. The second is like it: You shall love your neighbor as yourself."
I'm going to guess that most of you reading this post today believe you have the first and greatest commandment down pat. Love God. It's the "with all our heart, with all your soul, and with all your mind" part that I question. I also question it in myself. Is my love for God whole? Or are parts of me still holding back? I ask because if we truly did love God wholly, do we really need the second commandment? Think about it. Perhaps it depends on our definition of what it means to love wholly. But this will not be the focus of today's reflection.
Instead, let's look at "The Greatest Commandment, Part II." Or, the Sequel. Love of neighbor. For this, I'd like to offer you a blueprint for love of neighbor, one that I've used often in prayer and when delving into my understanding of how to love others. I hope this will help you also:
"If I speak in the tongues of men and of angels but have not love, I am a noisy gong or a clanging cymbal. And if I have prophetic powers, and understand all mysteries and all knowledge, and if I have all faith, so as to remove mountains, but have not love, I am nothing. If I give away all I have, and if I deliver my body to be burned, but have not love, I gain nothing. Love is patient and kind; love is not jealous or boastful; it is not arrogant or rude. Love does not insist on its own way; it is not irritable or resentful; it does not rejoice at wrong, but rejoices in the right. Love bears all things, believes all things, hopes all things, endures all things." -1 Corinthians 13:1:7
There – the blueprint. The road map. What I most like about using this passage in my journey to loving others is that I can take baby steps. The first part reminds us that loving is more important than anything else we do. But the second part – this part lets us take those small steps. We can pick this apart and work on each of our shortcomings.
Perhaps we can start with patience if that is your downfall. Maybe it's arrogance or irritability. Rudeness is a big one; jealousy, or perhaps too much rejoicing when someone you dislike experiences hard times. Are we happy in that? Or can we instead say a prayer for that person to help them? You must know that if you have not yet moved forward in your efforts to love, it cannot be done all at once. Dissect the blueprint. Pick one step and take the time necessary to improve this act of love. You may have to bite your tongue along the way. Try not to! But if you do, step back a bit on the road and look just ahead of you. What could you have done differently? Then, step forward and try again. Each time, with practice, should be easier. One – step – at – a – time!
Note that Jesus says we must love our neighbor, but often, I am asked how to define a neighbor. Well, look up from your phone and texting and social media and glance around you. You will find no shortage of neighbors to love. Whatever their race, creed, ideology, nationality, age, sexual orientation, body type or hair color — these are your neighbors. These are the folks you are commanded to love. Jesus also said that we should love these neighbors as we love ourselves. Love of self must be in the likeness of Jesus' love for us, not in self-centeredness. Understanding how Jesus loves you will move you forward on our journey to loving your neighbor. Then, perhaps one day, who knows when our love of neighbor will also include those enemies whose only goal is to destroy us. An outlandish idea? Not in the eyes of Jesus. Yes, perhaps one day! Perhaps —
God Bless.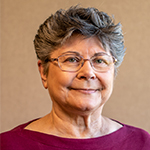 Jeanne Penoyar, an Accounts Manager at Diocesan, is a Lector at St. Anthony of Padua parish in Grand Rapids, MI. Jeanne has worked in parish ministry as an RCIA director, in Liturgy, and as a Cantor. Working word puzzles and reading fill her spare time. Jeanne can be reached at jpenoyar@diocesan.com.