"I gave you a land you had not tilled and cities that you had not built, to dwell in; you have eaten of vineyards and olive groves which you did not plant." -Josiah 24:13
Josiah is addressing the people of Israel, standing in ranks before him. From the chief priests to the judges, to families. Josiah is reminding them of God's mercy. He is telling them to be grateful for all God has done for them.
How much do we need that same reminder today!
For most of us, we worship in churches that we didn't build. We eat food that we have not tilled and live in cities that we couldn't begin to conceive of building.
I attend Sunday Mass at a beautiful little mission Church in West Michigan. When our Church was first started over 150 years ago, 3 families mortgaged their farms to buy the land. I have told this story 100 times, but it wasn't until I read today's passage that it started to sink in. They mortgaged their farms. At that time, farms weren't just the roof over their head; their farm was their livelihood; it was their source of income, of food, and their shelter.
This is more than just a story from the past; it is a challenge for the future. What am I willing to mortgage to further the kingdom of God? What am I planting for the next generation? What will I be leaving behind? Am I planting seeds of gratitude? Am I taking care of my little corner of the world so that it is in good condition for those who will come after me?
I feel challenged today to stop and say extra thanks. To live in a heightened awareness of just how much I am given. That God's mercy doesn't only extend to my the state of my soul but also to every breath of the life I live.
God is good. May you, to plant seeds of gratitude today.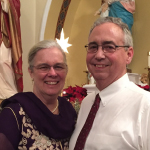 If you catch Sheryl sitting still, you are most likely to find her nose stuck in a book. It may be studying with her husband, Tom as he goes through Diaconate Formation or figuring out a new knitting or quilting pattern. Since every time she thinks she gets life all figured out, she realizes just how far she has to go, St. Rita of Cascia is her go-to Saint for intercession and help. Home includes Brea, a Bernese Mountain dog and Carlyn, a very, very goofy Golden Retriever.