While sitting down to write the reflection for today's Gospel I was stuck on what to say. I have felt lukewarm in my faith lately, struggling to find the passion and fire that I typically have since converting to the Catholic faith. Life has been so crazy, but good, and I tend to lose track of all the things I need to be grateful for when I hit a slump in faith.
After reading the Gospel a few times I started to think about the word transfiguration. When I think of this word I think of being changed or transformed, and ultimately becoming the saints we are destined to become. We are called to be dazzling and pure with the Lord, and Christ has purchased for us the rewards that we may gain in eternal life. How can I not think of this and automatically be on my knees in thanksgiving?
If I am being honest, I think it is easier to live a life of lukewarm faith, going through the motions. It is harder to stand up for what is right, to live a life full of joy, and to trust God in all the ways He is transforming us. While struggling with depression and anxiety, it is easier for me to feel sorry for myself rather than reflect upon all of the blessings in my life. Anxiety is very debilitating and I pray for all those that carry this cross on a daily basis – be encouraged that with continual prayer and pursuit of Christ He will help us carry this cross on a daily basis, even when we don't realize it. No matter your cross, ask yourself one question: how is God using this cross to make you more like Christ?
I believe that ultimately this is what God was speaking to me through today's Gospel: we are all called to be transformed, and we have to go through the highs and lows of spiritual life in order to reach this transformation. We must experience all of these facets of the human experience so that we may more fully realize our call to live according to our original state in Creation and our identity in the Lord.
Look to St. Teresa of Calcutta for inspiration: she experienced silence while praying to God for decades of her life, but she consistently chose joy and pursued Christ. She exercised virtue and good will in choosing the road that wasn't easy, a road that was narrow, a road full of trials – ultimately this road led to sainthood and deep relationship with Christ.
Be strong, be brave, and be persistent. No matter how many times you are knocked down ask Christ to help you back up. He is always there and will always be there – all He desires is that we ask great things of Him and trust. Please know of my prayers for you as we all endure the daily struggle and grow in virtue as we choose Love over comfort.
"Joy is prayer; joy is strength; joy is love; joy is a net of love by which you can catch souls." –St. Teresa of Calcutta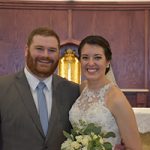 Nathalie Shultz is a joyful convert to the Catholic faith and a competitive swimmer with Obsessive Compulsive Disorder (OCD). She loves to share her passion for Catholicism with others, including her conversion story and how God continues to work miracles in her life through her OCD. She is the Director of Religious Education for the North Allegan Catholic Collaborative of parishes. Nathalie is married to her best friend, Tommy Shultz. Her favorite saints include St. Peter the Apostle, St. Teresa of Calcutta, and St. John Paul II. She is also a huge fan of C.S. Lewis. If you have any questions for Nathalie, or just want her to pray for you, you can email her at ignitedinchristnacc@gmail.com.