Have you ever watched a movie or read a book, then learned a fact about it that changes everything? That was me today. I've always heard Jesus' miracle of the fish and the loaves, but I never knew that it was literally right after Jesus finds out about the death of John the Baptist. I always thought that the miracle was just another day for Jesus, walking from city to city, preaching to huge crowds every time he stepped outside.
I was wrong. This time was so different.
On this day, Jesus was in mourning. His cousin, with whom he met in the womb, the one who baptized him in the Holy Spirit, had been murdered and beheaded.
While we know that Jesus is divine, we also know that he is human. He has emotions, just like us. Understandably so, when he heard of his cousin's death, he withdrew to a deserted place by himself.
When we are mourning a death, a relationship, an injustice, we too want to withdraw from the world. In our pain, we need to take the time to be sad and upset. We need time to process. Even Jesus, our mighty savior, knew that sometimes we need to be alone for a moment.
However, as Genesis 2:6 says, "It is not good for man to be alone." Jesus came back to where he had left his disciples and saw the crowds that had gathered in his absence. He did not send them away because he wasn't in the mood. Even while experiencing grief, "his heart was moved with pity for them, and he cured their sick." Then, once the disciples tell Jesus that it's late and dinner time, He does not agree to dismiss them so they can buy their own food. Instead, he provides them with food by the miracle of multiplying the fish and loaves, feeding five thousand men and many more women and children.
Like I said before, I knew about the miracle. I even remember when I first heard about this miracle. It was when I was about 5 or 6, watching a cartoon on local TV channel. I remember seeing the bread and fish shimmer and appear in everyone's hands as the crowds were filled with shock.
Today was like hearing it, really hearing it, for the first time.
To know that Jesus was in mourning? To know that even while He was dealing with the death of His cousin that He knew before birth, He did this for us? That blows my mind.
It blows my mind because when I'm in emotional pain, I find it hard to get past the part where I withdraw to a deserted place by myself. I struggle to find my way past the hurt and injustice. I forget to empathize and sympathize with others' problems. Yet, today, we read about how Jesus is able to mourn and still puts His people and the glory of God above His own pain.
I want to glorify God in all that I do, no matter my pain, and for this reason, I pray:
Dear Lord,
As we mourn, let us find Your plan for us,
For Your glory is greater than our pain.
As we mourn, help us to withdraw into our faith and not the darkness,
For You are our rock in turbulent times.
As we mourn, remind us of Your presence in our lives,
For You are forever by our sides.
Finally, My God,
As we mourn, allow us to be open to others,
For we are not alone in mourning nor on this journey of life.
If you are mourning the loss of a loved one, I urge you to read this article for some guidance and helpful words from Fr. Eamon Tobin.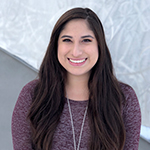 Veronica Alvarado is a born and raised Texan currently living in Michigan. Since graduating from Texas A&M University, Veronica has published various articles in the Catholic Diocese of Austin's official newspaper, the Catholic Spirit, and other local publications. She now works as the Content Specialist in Diocesan's Web Department.