I admit it. I did not want to write today's blog. It chose me. In 1985, this was a day of jubilee. I married the man I loved. Our family and friends gathered, and we celebrated life and new beginnings. The date holds a bittersweet place for me in 2019, as an un-niversary. It is a poignant, very personal reminder that there are some people who do not deal fairly with their fellow man.
The passage today from Leviticus speaks about a year of jubilee. 'Jubilee' is from the Hebrew word jobel which means 'rams horn', which is blown as a trumpet to signal the beginning of the jubilee year to proclaim liberty throughout the land to all its inhabitants. In regards to liberty, the text mentions several times, "do not deal unfairly" with your neighbor.
Our Catholic faith makes it quite clear. We are called to, "Love one another. As I have loved you, so you also should love one another" (John 13:34). The Catechism of the Catholic Church is very eloquent in its explanations of how 'dealing unfairly' applies to the Ten Commandments and our morality. When someone is dealt with unfairly or unjustly, it is an act that takes us away from love, which can lead us so easily into sin. It chips away at our own love of God. As when a snowball starts to form, something very small and seemingly harmless can grow into a very significant life-threatening event (picture an avalanche).
The path to being a good Catholic Christian is not easy. C.S. Lewis wrote this in his essay, 'Mere Christianity,' "If you are thinking of becoming a Christian, I warn you; you are embarking on something which is going to take the whole of you, brains and all. But, fortunately, it works the other way around. Anyone who is honestly trying to be a Christian will soon find his intelligence being sharpened: one of the reasons why it needs no special education to be a Christian is that Christianity is an education itself."
I must keep learning how to act justly and to love tenderly. When I'm angry about injustice or how I (or another has been wronged), I need to remember that other people can learn to change in spite of how they've previously acted. As Pope Francis says, "being a Christian isn't just following the commandments. It's letting Him take possession of our lives and change them, to transform them, free from the darkness of evil and sin".
"Let us ask God to grant that violence be overcome by the power of love, that opposition give way to reconciliation and that the desire to oppress be transformed into the desire for forgiveness, justice, and peace. May peace be in our hearts so that they are open to the action of God's grace. May all members of the family community, especially children, the elderly, the weakest, feel the warmth of this feast, and may it extend subsequently to all the days in the year."
Amen.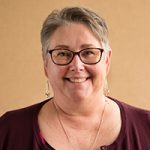 Beth is part of the customer care team at Diocesan. She brings a unique depth of experience to the group due to her time spent in education, parish ministries, sales and the service industry over the last 25 yrs. She is a practicing spiritual director as well as a Secular Franciscan (OFS). Beth is quick to offer a laugh, a prayer or smile to all she comes in contact with. Reach her here bprice@diocesan.com.