The headphones go in, the music or Netflix goes on, and for just a while we can forget that we are human, that we have responsibility, so much so that we call it vegging. The height of the human experience after a long day of work is acting more like a vegetable than a human.
Now don't get me wrong, I am not saying that people don't work hard. My life is very busy between work, home life, and teaching classes at our local church. Lots of people have sports or study. Many people in our community are hard working farmers. Our burden is often heavy.
But what do we do to help us with that burden? In today's Gospel Jesus is calling us to rely on him. He is calling us to trust. Something my wife and I have been working on lately is praying more instead of watching another episode on Netflix. Have you noticed how the shows that are being made up aren't even that good anymore, but we watch them for hours and at the end we realize we didn't even care for it.
Now I am not saying get rid of your Netflix or stop flipping through social media. What I am saying is that we need a better awareness as a society of what actually matters. Jesus is reaching out to give us his peace and love and often times we push him away with our headphones and tell him to take the back seat. Imagine if when we were stressed or worried or had the obstacles of life pile up on us leaving us exhausted, that instead of vegging out and forgetting our humanity, instead embracing the humanity of the ultimate human. Letting Jesus into our hearts and from there finding rest. From all of us here at Diocesan, God Bless!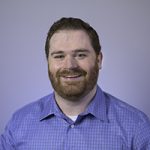 Tommy Shultz is a Solutions Evangelist for Diocesan. In that role, he is committed to coaching parishes and dioceses on authentic and effective Catholic communication. Tommy has a heart and a flair for inspiring people to live their faith every day. He has worked in various youth ministry, adult ministry, and diocesan roles. He has been a featured speaker at retreats and events across the country. His mission and drive have been especially inspired by St. John Paul II's teachings. Tommy is blessed to be able to learn from the numerous parishes he visits and pass that experience on in his presentations. Contact him at tshultz@diocesan.com.